About Us
Our History
Since its inception in 1984, Drumack Coachworks has grown steadily. Over the years the Rasharkin premises have been extended on several occasions to meet the increased demand for production. In Belfast a need for a professional tail lift service was identified so in 1997 Drumack opened a service depot in Dargan Crescent. This offered companies in Belfast and surrounding areas a quicker breakdown response time and minimised associated travelling costs. In 2002 a further workshop was added at the Rasharkin depot complete with overhead crane and metal working facilities and a new suite of offices to pre-empt the growing admin side. Towards the end of 2009 Drumack Coachworks acquired the stock and personnel of Smyth Equipment supply company and now offers a wider selection of body building supplies and associated parts knowledge. The same year Drumack added another service van to their fleet and welcomed another tail lift engineer to the fold, bringing the total to 8 highly trained taillift engineers and 5 fully stocked service vans.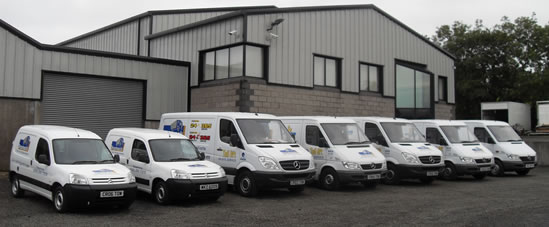 Our Ethos
At Drumack we place great importance on honesty, loyalty, flexibility and respect. These values are encouraged and expected within every facet of the company; from initial interviewing of job applicants to our dealings with suppliers and customers.
These attitudes and values permeate throughout the company and the services we provide.
Your Safety
Occasionally government introduces new legislation that impacts the commercial vehicle and tail lift industry. At Drumack we realise our responsibility to our customers to keep them informed of new industry regulations; examples of which include type-approval, Loler and Puwer regulations and more recently the legal requirement for side and rear conspicuity markings on all newly registered vehicles over 7500kg G.V.W.
Given that customers' safety is of paramount importance to Drumack Coachworks, the company has launched a campaign aimed at ensuring that customers are aware of Loler and Puwer regulations. In order to comply with Loler, all tail lifts by law must have a Loler Thorough Examination at least two times every year. These Regulations state that the operator must ensure:
Lift operations are carried out safely
Staff are trained in operating the tail lifts.
Lifts are maintained in good repair
Lifts are safe and meet legal requirements.
Tail lift operators must appoint a "competent" person to carry out these Statutory Thorough Examinations every six months. If the tail lift has any defects these must be corrected as recommended in the report as failing to do so could lead to imprisonment.
Realising the importance of Loler regulations Drumack launched a website dedicated to the task of educating owners and users of lifting equipment about the requirements of Loler. The site, offering free advice, has proven to be a valuable source of information for many transport managers across the U.K.
Further information and tail lift safety advice can be found at www.safetyfortaillifts.com

Your Support
Our after sales support is extensive, as we employ experienced engineers who are trained as "competent" people and are fully qualified to undertake "Statutory Thorough Examinations" on all makes of tail lifts. All of our eight engineers are trained in the latest developments within the Industry and new tail lift models. Our engineers can complete service work, repairs and maintenance at our customers' premises or at one of our workshops in either Belfast or Rasharkin.
In addition to carrying out work at our premises we operate a fleet of five fully equipped mobile workshops enabling us to offer a comprehensive 24-365 breakdown service and can undertake work anywhere at any time to suit customers' requirements. By responding quickly and efficiently to a tail lift breakdown and carrying quality assured parts for tail lifts, down-time is kept to a minimum and disruption and costs to the business are greatly reduced. In order to facilitate this, we carry spares for eight manufacturers, including Ratcliff Palfinger, Dhollandia and Zepro parts for tail lifts. When parts for taillifts are required immediately, Drumack Coachworks carry supported stock levels which enable a better efficiency of repair minimising downtime.
In the economic climate today as transport managers are facing ever increasing pressures to minimise costs there is the temptation to substitute genuine tail lift parts with spurious tail lift parts. In some situations this may be a valid approach; however it is always worth considering both the quality of the part and the warranty offered. There are much more long term cost advantages to be gained from regular lift maintenance than from purchasing "cheap tail lift parts".