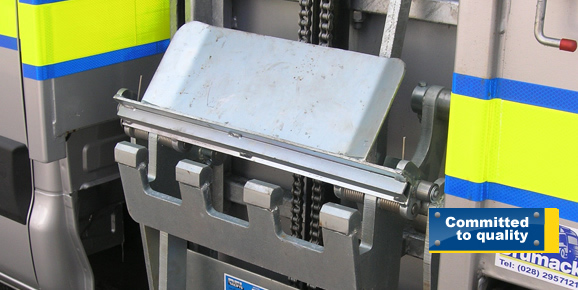 Welcome to Drumack Coachworks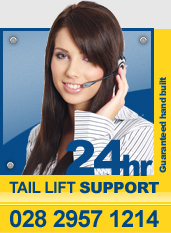 Drumack coachworks exists to serve the needs of the commercial vehicle market. Our main operations are within the service and manufacture sectors. From the offset Drumack Coachworks have sought to create innovative yet realistic solutions to meet our customers' requirements.
Our design team have over 35 years' experience in the vehicle body building market. Together with your insight into your industry needs and our knowledge of vehicle and material specifications we seek to provide the best solution to your transport requirements. A variety of projects can be viewed in our body building case study pages. These range from the standard box body to the more bespoke Autosmart showroom. No vehicle body concept is too simple or too complex. Specialist solutions have been created for Castlederg glass bottle collection, Derry city council airport steps and Jak-a-box.
Over the years Drumack has built up a close working relationship with a number of other businesses operating within the commercial vehicle industry. These range from painting and plumbing to curtain fabrication and signwriting not to forget the various tail lift manufacturers and vehicle dealerships. We have regular contact with all of these companies which helps to ensure a smooth build. As Drumack operates in two market sectors it allows us not only to offer a wide and varied range of tail lifts to meet your individual needs but also to provide a comprehensive range of after sales services; including routine service work, warranty work, weight tests, maintenance contracts and loler thorough examinations.

Within the taillift service department we have 5 service engineers complete with fully equipped service vans providing emergency breakdown cover 24 / 365, a further 3 engineers man both the Rasharkin and Belfast depots. The service vans stock a wide range of popular parts as well as hose making tooling and 12 to 240volt invertors to increase the likelihood of a complete and speedy repair.
At Drumack we understand that a vehicle of the road costs its owner money. Where possible we aim to perform all repairs at the road side and only more serious repairs require workshop attention. To keep V.O.R. time to a minimum we have two mobile weight testing units which allow us to offer this service on-site. Two yanmarke-4 compact tractors and purpose built calibrated weights enable a safe, effortless and professional weight test. The majority of our customers benefit from this facility and arrange multiple vehicles to be available on the one occasion to minimise costs.
We hold a vast array of tail lift parts to suit most models of tail lifts at our Rasharkin and Belfast depots. More specialised stock parts can be ordered within 24 hours of the part being identified and requested and usually despatched from our supplier next day. Parts are held for most taillift manufacturers including; Del, Dhollandia, ElephantCar, Erhel, Global, Hi-Spec, MBB Palfinger, Palfinger, Passenger Lift Services, Ratcliff Palfinger, Ricon, Ross & Bonnyman, and Zepro.
At Drumack we pride ourselves in a personal approach, from initial contact through to after sales service. Through a process of continued innovation and integrated quality management (BS EN ISO 9000) we strive to exceed our customers' demands. To ensure a long life for your vehicle body throughout the build we strive to use only the highest quality products and materials. Our procurement department are constantly sourcing new products which allow us to offer higher spec'd builds.
As a matter of course it is necessary to offer warranty on any manufactured product. As we believe Drumack built bodies are of high quality and built to last we frequently offer 3 years warranty on all structural body work and at least 1 year warranty on all component parts. All warranty work is conducted in a timely manner that is convenient to yourself.
Occasionally, during use, vehicle body damage occurs. As we understand how vehicle bodies are assembled this informs the process of damage repair. We have a vast experience of both structural and cosmetic repair work. Past projects range from the more severe vehicle-to-vehicle collisions, vehicle-to-bridge collisions and bomb damage, to more minor damage caused by forklift and pallet trucks and general wear.
Flettner vents, gas struts, hydraulic rams, stainless steel hinges, coffin locks and rubber buffers are a small fraction of the products we stock for sale to the horse box market, other vehicle body builders and DIYer's alike. If there's a body building part you require and it's not in stock, we will do our very best to source it.
Drumack Coachworks offers a wide range of other products and services.
Wheel base extension and shortening
Body building supplies
Supply and fitting of wind deflectors, cab kits, sun visors and signs
Supply and fitting of a range of lights including beacons and docking lights
Supply and fitting of an extensive range of Brigade reversing cameras, sounders and sensors
Side step sales and service
Tail lift training
Aluminium and wide lath dry goods shutter sales, parts sales, repair and service.
Please feel free to explore our site to discover the wide range of services and products Drumack Coachworks offer. If you have any questions or would like a quote for vehicle body building parts, shutter parts or tail lift parts or a specific build please do not hesitate to contact a member of our sales team by telephone 028 2957 1215 or email enquiries@drumack.com
In the case of an emergency phone our 24/365 emergency taillift breakdown number 028 2957 1214.